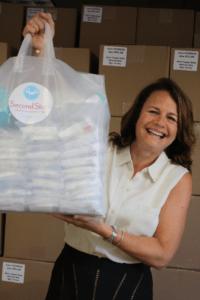 Board Vice President
Ann Hilger worked in sales, marketing, and product management for over twenty years in the industrial food ingredient industry for companies in Chicago and Connecticut, specializing in humanitarian food aid fortification for developing countries. She has served on several school, arts and community boards, and has volunteered for many charitable causes and fundraising projects. She holds a B.A. in Journalism and Political Science from Indiana University.
Ann, her husband Chris, and their three children moved to Saint Paul in 2010 from Indianapolis, Indiana.  They have all enjoyed getting involved in the many community charitable activities that make Minnesota a caring and great place to live. She feels that Second Stork is truly one of them.
"The assistance that Second Stork provides to new mothers makes a huge, immediate impact on their lives!  Their newborn babies are safer, too,"she explained.
As Board Vice President, Ann is an important leader in Second Stork's operations as she leads communications, public relations, fundraising campaigns and other marketing initiatives.