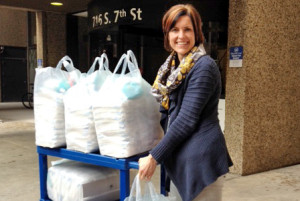 Second Stork relies on donations of all sizes to help us buy critical supplies such as wholesale diapers and safety-approved playards with bassinet attachments and sheets, and to cover our minimal operating costs.  
Interested in donating newborn clothing or having a collection drive? We also provide newborn clothing and blankets for parents that have none as they leave a hospital, and we rely on people to donate these items.  If you are interested, please be sure items are NEWBORN size only (including preemie or 0-3 months) and are simply a one-piece sleeper, a t-shirt or a receiving blanket.
Interested in making a donation? The good news is this — Second Stork is 100% volunteer based (no paid staff anywhere in our operations) and our location is nearly totally donated as well. That means that close to 100% of your donation goes directly into purchasing critical newborn supplies or other ways that keep our operations flowing.  Any amount, large or small, will make a big difference in Second Stork and in the lives of these new families. Please follow these simple steps to make the difference that will truly impact another's life!
Your choice – donate on-line by either completing the GiveMN.org or PayPal links below. If you prefer traditional mail, please send donations to 130 Eva Street, St. Paul 55107.

Making a donation in honor or in memory? Make donation, then send us instructions for mailing an acknowledgement to [email protected] — we'll get it in the mail right away!

Give MN Donation:

Paypal Donation: