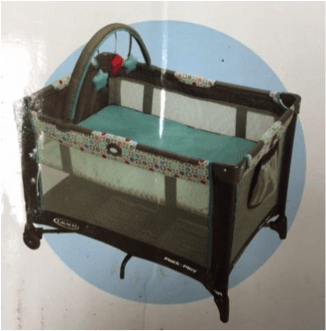 Sure, we get this question occasionally. The majority of our annual budget is spent on portable playards. But why play yards, and why this type of model?
1.) We don't decide it — experts do. A key principle of Second Stork is that we listen to health and medical professionals. They are the experts, not us. They have the education and experience to know the best option to keep a newborn safe and healthy. In addition, experienced perinatal social workers also guide our decisions, as they know the habits, questions, and obstacles faced by new families. Their resounding input has been that portable playards with bassinet attachments are what they should and will distribute in their hospitals to a new parent in need. Period. We go with what they recommend. We are on their team.
2.) Recommended Choice –  A playard with a bassinet attachment is one of THE few options recommended by the American Academy of Pediatrics, which also stresses that the crib, bassinet, portable crib, or playard should meet current safety standards. In addition, the Minnesota Sudden Infant Death Center recommends all babies use a safety approved crib, bassinet or playard, with a firm mattress, covered with a tight fitting sheet. If visiting away from home, they further recommend to make sure baby has a safe crib, bassinet or playard for sleep time. (For more information about crib safety standards, visit the Consumer Product Safety Commission Web site at www.cpsc.gov)
3.) To protect dignity — Crisis hits, but everyone wants to keep their dignity in check, somehow. A key founding principle of Second Stork is to always work in ways that honor the self-respect of people in crisis. All new parents aspire to provide the best for their beloved newborn — from a nice playard or crib to a bright future. We respect everyone's dignity by providing something that makes a family proud.
4.) Portability — Advances in baby equipment in the last few decades are remarkable, and in turn the care of babies has improved significantly. Just think of the evolution of car seats! Playards are now a wonder of the mechanical world by the way they set up so securely, yet are highly compactable so as to be incredibly portable. In fact, most models fold into an easy attached duffle bag with a handle and/or shoulder strap. This is especially important for families who utilize public transportation or live a transient lifestyle.
5.) It keeps that baby safe up to age 3+– Safe sleeping is critical for a newborn, but still very important for a baby and a toddler. Playards serve as a safe bed and place for a child to play to age 3  and beyond. We believe that providing new families a sleeping option that isn't functional for more than a few weeks/months is short-sighted. Babies need the safe, long term solution that playards and cribs provide for sleeping.
6.) Economics make it possible — We are not tied to a manufacturer or any for-profit provider, so we are as objective as it comes. And here's where economics might be surprising. Second Stork works hard to find the absolute best pricing and every possible efficiency in operations. As a result, Second Stork currently can provide "the essentials" like a playard with a bassinet attachment and a sheet, a layette with a sleeper, t-shirt, blanket and hat, and 100 newborn diapers plus wet wipes and some related essentials, for under $75!